Jack Russell Farm Brewery is always providing entertainment for our guests, including: live music; beer, wine or mead special releases; and festivities surrounding Apple Hill in the fall. With plenty of space for your friends and family, we welcome you to join us for one of our upcoming events:

The Barely Only Deadheads Show
April 2, 2022 @ 5:00 pm

-

9:00 pm

$20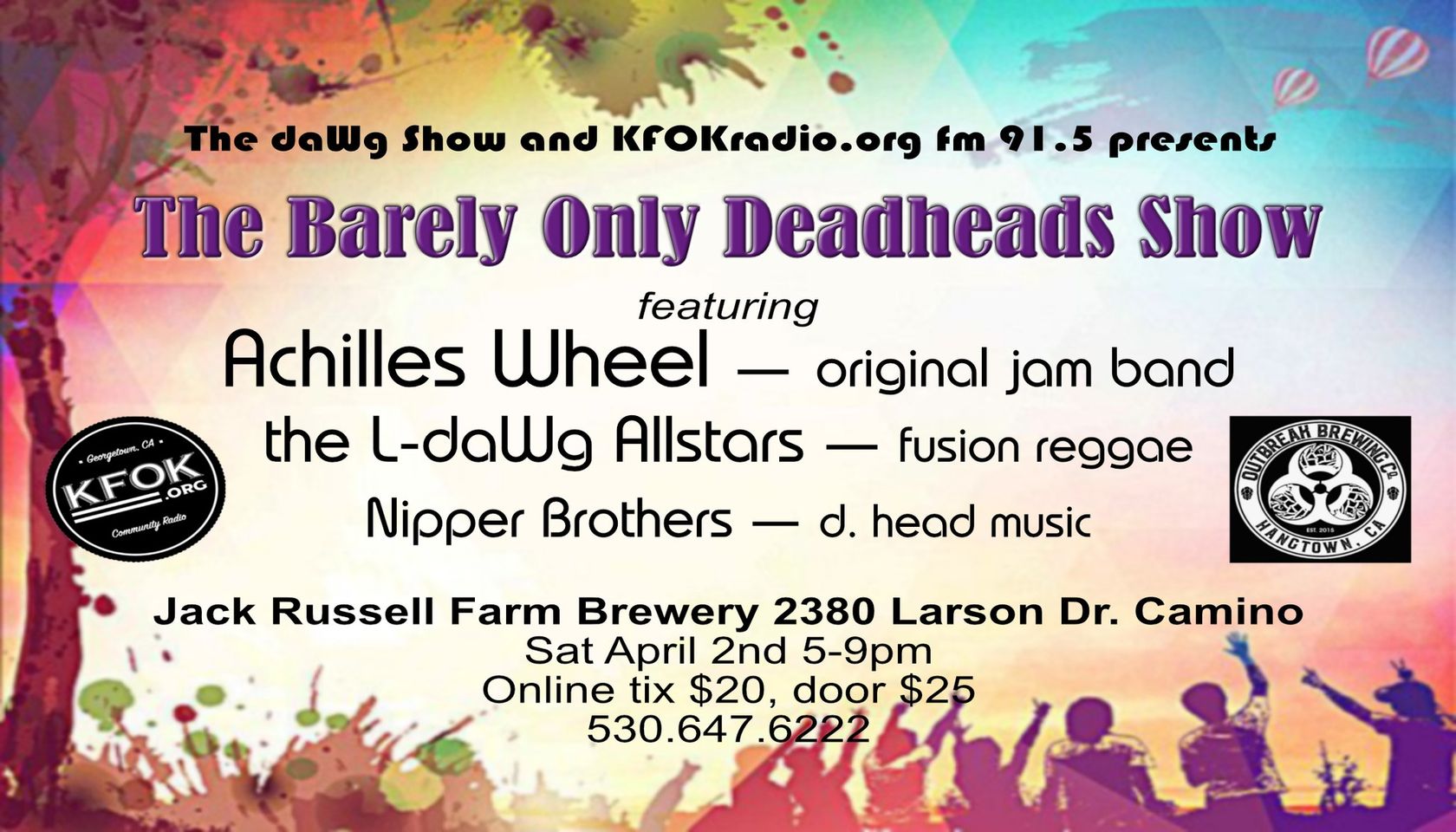 Saturday Show
We are kicking off our 2022 music season with Achilles Wheel, L-daWg Allstars and the Nipper Brothers.
Saturday: April  2, 2022
Saturday Lineup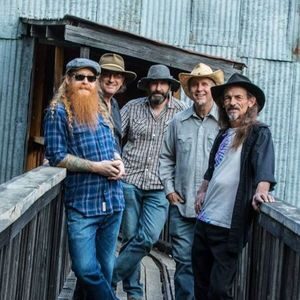 Achilles Wheel is a California band that blurs the lines between genres with a mix of infectious high energy dance beats and stark lyrical ballads. Roots Rock storytelling combined with dance hall psychedelia.
Much like life itself, their music breathes in and out with joy and pain, hurtling forward like a wheel, intent on hope and love.  They play hard as a way to break down walls and celebrate life.  Their idealism is not diminished by the harsh light of the modern world as we struggle to live free and have a good time… and in the end – hopefully make a difference.  Achilles Wheel fearlessly sings out to these times, the here and now.
The Wheel began 2018 with the release of their 4th studio album "Sanctuary". From sweaty dance halls to intimate acoustic shows, the band never tires of relating to their audience and will keep playing until the conversation is complete.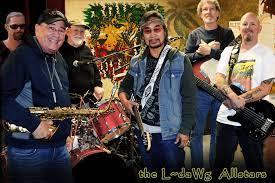 Fusion reggae band located in Placerville, CA
Nipper Brothers

Nipper Brothers is a Sacramento-based band that plays music from the Grateful Dead along with "Dead-friendly" material from J. J. Cale, Van Morrison, John Hiatt, Railroad Earth and many others.  The focus in on delivering strong vocal harmonies with textured instrumentals in the context of good songs.

Brothers Joe and Scott Nipper have been playing music together and separately for five decades.  They have appeared in countless venues across the country, and performed on numerous recording sessions, playing a wide variety of rock, blues, soul, country, jazz, folk and other musical styles.  In the 1980s, Joe and Scott recorded and performed with the original music band Nipper, playing clubs in the LA area including the world-famous Troubadour.   In recent years, Scott has played in the local region with such groups as JabberJaw, PUSH, and Second Time Around.   Joe recently relocated to this area from Virginia where he co-founded Beggars Tomb, one of the premier Grateful Dead cover bands in the mid-Atlantic region.  Together again, they are leading Nipper and the Buds, playing a wide spectrum of music with an emphasis on three and four part vocal harmony and jam-based songs.