David Coody is a pioneer in the Sacramento craft beer movement. In 1989, he started brewing from a starter kit, which prompted his interest in classic beer styles. David started Hangtown Brewery in Placerville in 1992, the first craft brewery in the area. Hangtown helped establish Sacramento's place on the craft beer map alongside Ruhstaller, Rubicon and River City. In 2010, he purchased the Jack Russell Farm Brewery which originally opened in 1996 as a brewery specializing in English-style ales. From then on, he continued his passion of creating classic beer styles with an innovative, west coast twist.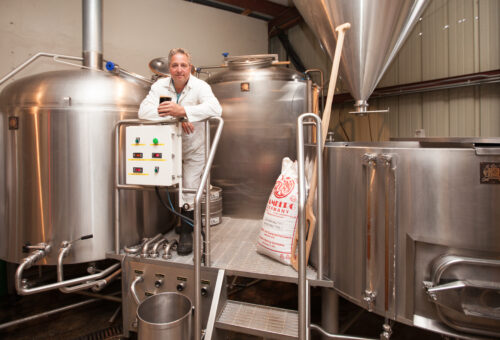 David's approach to craft is a lot like his approach to life: never settle. His goal is to help guests find their next favorite beer at the brewery on the hill. Jack Russell Farm Brewery offers the highest-quality beer styles with a top-notch experience away from the city. Brewing has always been instinctive to David, but just as important is putting the customer first. Every pint is an invitation for you to become a part of the Jack Russell family.
Along with David, his wife Laurie, daughters Marley and Emily, and Lucy our mascot all take part in delivering the best guest experience and selection of craft beer possible.